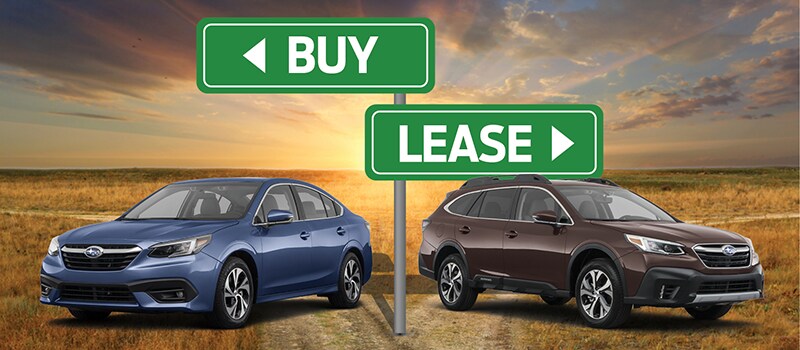 One struggle for new car shoppers is deciding whether Buying or Leasing Is Best For Them? 
Pros and cons exist for both options, and there are significant differences between the two that car shoppers NEED to understand so they can make the right decision.
The entire staff at Scott Harvey Subaru is here to assist you in making the right choice for YOUR life. 
We want to see our customers make the right decision before they drive off our lot. Years of happy driving help cultivate our ongoing relationships with our customers.
PLEASE do not hesitate to ask us any question that you might have. We want you to be 100% confident in the decisions you make.

BUY                     VS                 LEASE

Pay to own your new car, not just to use it for a few years. After your final payment is made, you can drive your Subaru for years to come. It's all yours.

Drive an unlimited number of miles - especially important if you usually drive more than 12,000 to 15,000 miles per year.
Modify or repaint the car or install custom equipment.
Enjoy the full benefit of your car's trade-in or resale value.


Potentially pay less per month. Monthly lease payments are usually lower than monthly loan payments for the same term, because your monthly payment includes the vehicle's use and expected depreciation only during the lease term.
Enjoy driving a new car more frequently.

Have options at the end of your lease - including leasing another Subaru or buying the one you've grown to love. If you decide to buy the car at lease-end, you will get a no-hassle preset purchase price.
Minimize repair costs. Many people lease for the length of time the manufacturer's warranty is in effect. That way, most repairs are typically covered.

STILL NOT SURE? PLEASE CALL AND ASK US!
It really comes down to personal preference. However, your financial situation can be a strong dictator of whether leasing or buying a vehicle is the best option for you. 
If you aren't sure about which option you should choose, PLEASE ASK US!
We will answer all of your questions and help analyze your financial situation so you can make the right choice.
WE'RE HERE TO HELP! Please Feel Free To Ask Us Anything!
FOR DIRECTIONS, PLEASE CLICK ON OUR ADDRESS