The 2021 Subaru Love Promise Community Commitment Award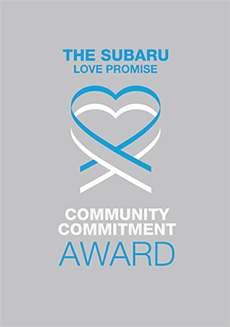 We've been nationally recognized for our dedication to our community and the Subaru Love Promise.
We're honored to receive the 2021 Subaru Love Promise Community Commitment Award. This award nationally recognizes Subaru retailers who are making the world a better place while demonstrating an outstanding commitment to supporting passions and causes in local communities. These efforts are focused in important areas such as the environment, community, health, education, and pets.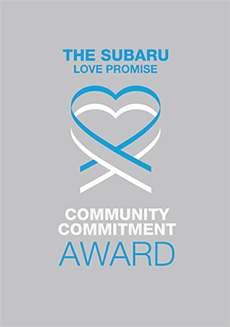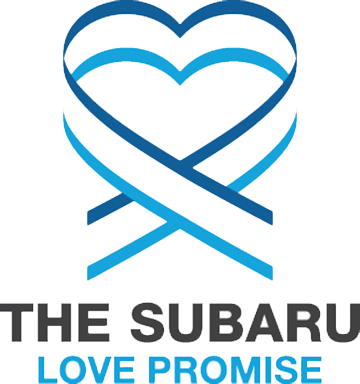 What is the Subaru Love Promise?
Subaru and our retailers believe in making the world a better place and the Subaru Love Promise is our vision of respecting all people. This is our commitment to show love and respect to our customers and to work to make a positive impact in the world.
How is Scott Harvey Subaru dedicated locally to the Love Promise?
Our Love Promise can be seen in various partnerships with local charities and non-profits. We're grateful for the opportunity, not only to be a part of our community, but to serve it as well. Coleman Subaru is a second-generation family owned and operated business. We've been involved in our community since the beginning in 1967.
Ewing Township, 2 Jake Garzio Dr, Ewing Township,
Delaware River Keeper Network
Boys & Girls Clubs of Mercer County, Ewing Twp High School
VFW Post 9111, Ewing Twp PBA, Long Beach TWP Police Unity Tour
Deborah Hospital, Community Blood Council of NJ, Davids Dream & Believe Cancer Foundation
Love Promise Stories from Scott Harvey Subaru
Subaru and Scott Harvey Subaru believe in making a positive impact on the communities in which we live and work. We uphold that belief through our Love Promise Community Commitment. Every month, we select inspiring stories from customers and partners from around our area who strive to support our collective commitment and feature them here
Seeing Someone's Promise - Patrick S
"When you look into the eyes of someone who is struggling, see their pain. And I also ask that you see their potential." As soon as Mary Gay Abbott-Young, President of The Mission, said that, she knew what a request it was. To see someone's pain. And their potential. At the same time. That is a lot to hold onto at once. Scott Harvey was able to see beyond the pain to the potential when he met James Kirkland, who has been living in The Mission's Shelter since September 25th of last year." What I saw, and continue to see, in James is a warm, friendly smile and a very positive attitude. He is ready to learn, he gets here on time, and he wants to improve," said Scott, who is the President and Chief Executive Officer of Scott Harvey Auto Group, a combination Kia and Subaru dealership at 1717 North Olden Avenue in Ewing. Scott first came to The Mission just before winter set in last year to donate 320 blankets for the individuals who stay in our shelter. He quickly initiated a conversation with Barrett Young, Chief Executive Officer of The Mission, about how he would be very open to helping a few individuals who were experiencing hard times with possible job experiences at his dealership. "If there is someone who wants a fresh start," Scott told Barrett, "I'd love to help out. That is how Scott met James, who is now an entry-level technician in the dealership, working alongside senior service technicians, where he is rotating tires and changing oil, fluids and filters, and learning to do more. "While James has no previous experience, what he has is the will, the want, and the desire. If you have that, I can show you the rest. James is very good at working with his hands, and his is learning and growing every day. I love his attitude," Scott said. "We're going to grow together." The bus ride from The Shelter to the auto dealership just takes ten minutes. Unless the weather is inclement, though, James likes to walk the 45 minutes each way. "My grandmother was a walker. So, I guess I come by it naturally. It feels good to stretch my legs at the beginning of the day and at the end. And it gives me time to think about where I've been, where I am, and where I'm going." Having heard the words that Scott enthusiastically said about him, James reflected, "He sees something in me that I need to start seeing in myself." He added, "I'm now earning – not just a paycheck, but how to think differently about myself. I've actually been surprising myself lately. I used to have a lot of mornings when I didn't feel like waking up. Now, I just get up and go." James explained that he came to The Shelter from prison in Trenton. "If I had just listed to my parents when I was growing up, I'd be where I need to be. But I made some very poor choices. I got my head turned around, hung out with the wrong people, and ended up in trouble. Now I have a chance to set things right." What keeps him smiling? James said, "I have no clue. I definitely have caused and felt a lot of pain in my life. Still, at the end of every day, I tell myself that everything happens for a reason. And I believe that if I put in my own work, God will come through for me." Smiling, he added, "I know I have it in me to be more. And this is my chance."
---
Scott Harvey Subaru Delivers HOPE! - David C
In April 2021, Scott Harvey Subaru presented a check for $12,465 to David's Dream & Believe Cancer Foundation (DDBCF). This very generous donation was made possible through Subaru's Share the Love annual charitable campaign. Scott and Robin Harvey and the entire team at Scott Harvey Subaru have been a long-term partner of DDBCF for 5+ years. Like so many community-based nonprofits struggling to continue their missions during the global Covid-19 pandemic, DDBCF have been without an in-person fundraising event since August 2019. Unfortunately, cancer does not stop or withdraw because of the pandemic and our patients' real-life struggles are even greater during these difficult times. If not for the generosity of The Harvey family, employees, and customers of Scott Harvey Subaru, we would not be able to continue our Mission of Hope for families battling a cancer diagnosis in New Jersey. Thanks to that generosity, we have been able to provide 2,000+ patients and their families with direct financial aid in the amount of nearly TWO Million Dollars! Thank you!
---
Marty's Place Senior Dog Sanctuary - Doreen J
Scott Harvey Subaru has been a supporter of Marty's Place Senior Dog Sanctuary for the past 4 years. He has a special place in his heart for senior dogs, recognizing they are the most vulnerable if abandoned or relinquished to a shelter. He also understands the importance of enrichment for our seniors, noting that just because they may be older, that doesn't mean all they do is sleep. They have donated toys for our dogs so that they can have stimulation and activity as appropriate for their specific needs. We appreciate that Scott promotes the adoption of senior dogs, the value and companionship they will bring to a new family, and the gratitude they always show.
---
Harvey Subaru-A 'Mission" to Warm the Community - Niki G
For over a century, The Rescue Mission of Trenton's Emergency Shelter has provided a safe haven for those with nowhere else to turn. We provide warm meals, a safe place to sleep, a refuge where anyone who is homeless will always be welcomed – as well as the possibility of obtaining housing. For anyone who knocks on our door, we used to ask only two questions: "What's your name?" and "Are you hungry?" As a non-profit, we depend on our local businesses to step in and occasionally provide donated necessities, especially with the onset of the current health crisis. With the weather becoming colder and the numbers grow in our emergency shelter, Scott Harvey was right on time with an amazing gift; literally "covering" each of our 200 plus shelter clients. "We are so very grateful to Scott Harvey, president and chief executive officer of Scott Harvey Subaru, for donating 320 blankets for those who stay at our Shelter," said Barrett Young, chief operating officer of The Mission. "This thoughtful gift is particularly welcome as we plan for the cold days of winter ahead," said Barrett. Scott, whose dealership is at 1710 North Olden Avenue in Ewing, is very committed to helping those in need. "He quickly initiated a conversation about how he would be very open to helping some people who were experiencing hard times with possible job experiences at his dealership," Barrett said. "We were looking very forward to collaborating with him on future possibilities." Here at the Mission we can only do our work with community partners like Scott contributing to our ongoing service to those in need. Last year, we served 1,108 homeless individuals 71,992 meals, providing 38,005 shelter stays. And we helped 153 of those individuals obtain housing. Our ultimate goal is to help put an end to homelessness – one person at a time and we are happy to have Scott Harvey Subaru join us on this journey to rebuilding those around us.
---
Scott Harvey Subaru shares the LOVE! - David C
In March 2020, Scott Harvey Subaru delivered a check for $17,000 to David's Dream & Believe Cancer Foundation. This incredibly generous donation was made possible through Subaru's Annual Share the Love Campaign. We were one of several charities selected by Scott Harvey Subaru and cannot be more appreciative to Scott and Robin Harvey and the entire team at Scott Harvey Subaru. This donation took on even greater impact this year as David's Dream & Believe like so many charities have been forced to postpone and cancel fundraising events due to the COVID-19 National Pandemic! We would not be able to answer any of our existing patient applications had it not been for the generous donation from Scott Harvey Subaru. Thank you to the Harvey's, their employees and customers for serving as A Beacon of Hope for patients and their families affected by a cancer diagnosis throughout New Jersey!
---
Scott Harvey Delivers for Meals On Wheels - John P
On Monday, November 18th, 2019, Scott Harvey Subaru employees, Justin Gunn and Paola Patino volunteered to deliver meals to some of the local recipients in Mercer County on behalf of Meals on Wheels of Mercer County. Scott Harvey Subaru has partnered with Meals On Wheels for the last 4 years and will be adopting a route and staffing delivery on a monthly basis soon. Scott Harvey Subaru thanks Sasa Olessi Montano (CEO) and Brandon Verrault for this partnership opportunity to help out in our local community. Typically, Meals on Wheels programs serve homebound seniors who are over 60 in their communities. Meals on Wheels of Mercer County also serves a growing population of those under 60, who find themselves unable to cook or shop due to the onset of a debilitating disease, or another life changing situation that makes them homebound. This could be temporary, or for a longer term.
---
Coleman Delivers Hope/Warmth to Kids with Cancer - Stacy K
On Tuesday, July 2nd, representatives from Coleman Subaru- including General Manager, Mike Colavito and Vice President/CFO, Robin Harvey delivered warmth and hope to children facing a cancer diagnosis at St. Peter's Children's Hospital in New Brunswick, NJ. On the day of the delivery, Subaru reps were met by LLS's Senior Patient Access Manager, Stacy Kreizman, Child Life Specialist, Amanda Carlson and Stewardship Coordinator, Emily Lyssikatos. Amanda and Emily led the group to the inpatient pediatric playroom where additional Oncology staff met us to take the photo enclosed. In the playroom, both Emily and Amanda shared how much the delivery of blankets and craft kits makes such a difference to their patients, especially this time of year. They shared that the timing of the gifts are great because the hospital is inundated with donations around the holidays but during the summer months doesn't receive as much so having the ability to brighten a child's day with a soft blanket and craft kit makes their day! At the conclusion of the delivery, Emily escorted the group to the outpatient cancer clinic to share where the children receive their treatment and have check-in appointments with their medical teams when they aren't required to stay overnight in the hospital. Robin Harvey shared how much the tour and the delivery means to her as a local business owner as it gives her and her employees the chance to see what a difference they're making in their community.
---
Cruisin' For A Cure - Danielle C
We are always grateful to have new businesses join our mission of HOPE at David's Dream & Believe Cancer Foundation. We want to thank Coleman Subaru and Coleman KIA for their continued support of the Frank V. Panzone Jr. Memorial Cruisin' For A Cure, our annual motorcycle & classic car ride held to raise funds to provide direct financial assistance & wellness services to New Jersey families affected by a cancer diagnosis.
---
Helping Trenton Teens Fulfill Their Potential - Mark B
Our Boys & Girls Clubs of Mercer County just announced our Youth of the Year - Giayana Feliciano. She's been a Boys & Girls Club member for over 3 years and has participated in our Keystone Club which focuses on academic success, career prep, and community service. Now a Senior, she is going on to College after receiving over 10 college acceptances! Giayana wants to contribute back to society in many ways as a leader, and plans to become a forensic pathologist. Her dedication to our local community mirrors that of Colemen Subaru. Coleman Subaru's consistent support of Boys & Girls Clubs of Mercer County and their teen programs, help foster academic and career achievement and build a stronger community. Coleman Subaru is promising to share the Love - helping disadvantaged teens fulfill their potential and create new community leaders.
---
We love Coleman Subaru - Megan K
For a few years now Coleman Subaru of Ewing, NJ has been a huge supporter of the Long Beach Township Policeman's Benevolent Association Local #373. Members from the Coleman Auto Group have not only been attending our biggest fundraiser, a Beefsteak Dinner and Auction but also making generous contributions to our cause. Our Beefsteak Dinner raises money for the Police Unity Tour where Police Officers from our Department ride bicycles from NJ to Washington DC to raise money and awareness for fallen Officers and their families. We salute Coleman Subaru for being a proud supporter of our local PBA. Megan E. KellerSecretary, PBA 373
---